Small business owners
You deserve to know what your business is really worth
Baton's business valuation services are based on real financial data, and come with a personalized roadmap, giving you intel you can build on.
100% Free and confidential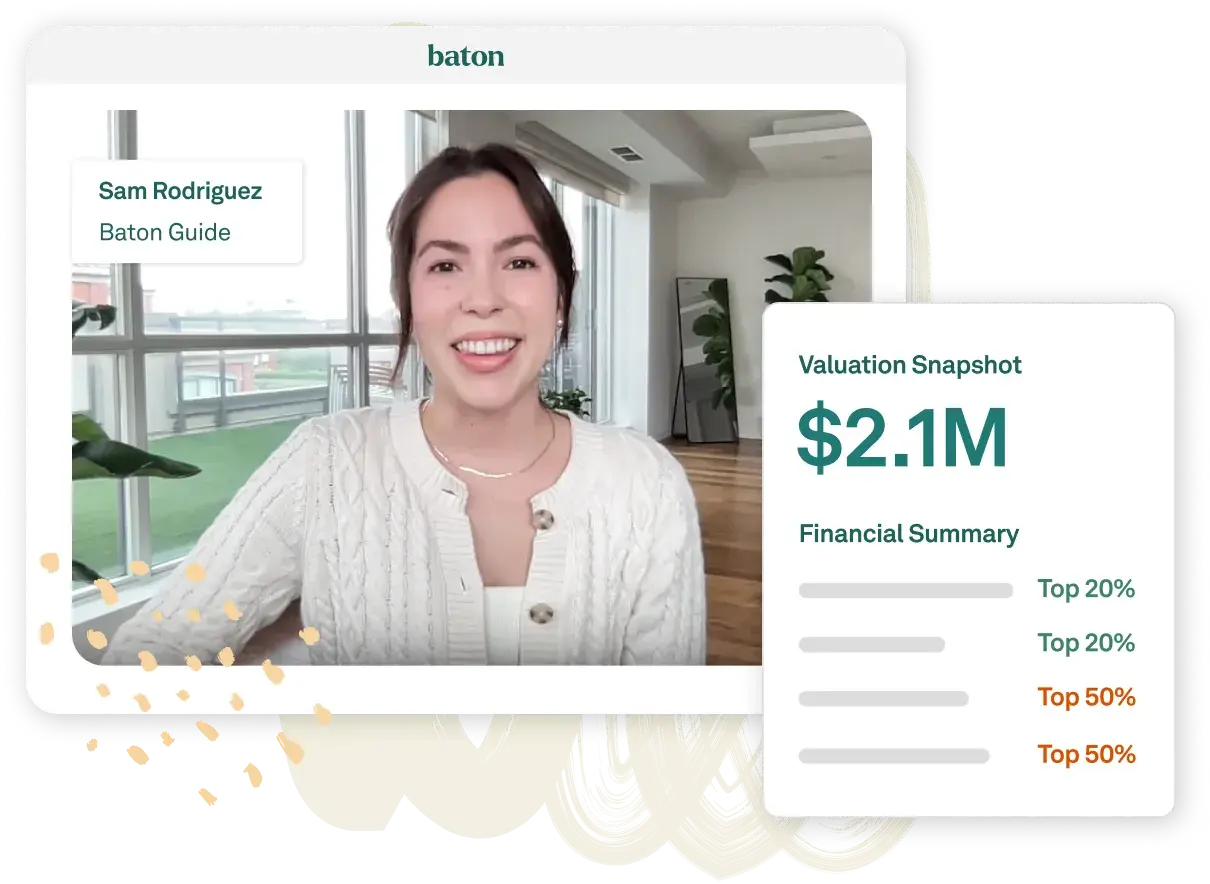 A BUSINESS VALUATION YOU CAN BUILD ON
Get your worth in 3 steps
Sign up and claim your business

We secure your account information from start to finish.

Take a quiz

Fill in the story behind the numbers so we can give you personalized results.

Link your accounting software

This is the foundation of your business value – based on real data.
HOW DO WE MAKE MONEY?
This one's on us, and here's how we do it.
If you decide to leverage our partner network to grow or sell with us, we make money. That's how we keep valuations and human support free, as we believe they should be. Better than a valuation calculator
Baton valuation services
Typical business valuation calculators
6 -method calculation

Includes intangible assets

Includes real financial reporting
Broad inputs i.e. business type, last 12 months' sales, current operating profit, owner's salary

No assets – key to fair value measurements
Based on database of 4 million + businesses

Detailed snapshot for true market comparison
Missing or generic comps

Not enough data to compare apples to apples
Complimentary, expert support to discuss valuation results

Tailored recommendations for next steps

Get started
No support/analysis

No accounting for unique business model to complete the full picture of your business
Preview the data and insights
View a sample valuation snapshot to see the kinds of data and insight you'll receive.
View Sample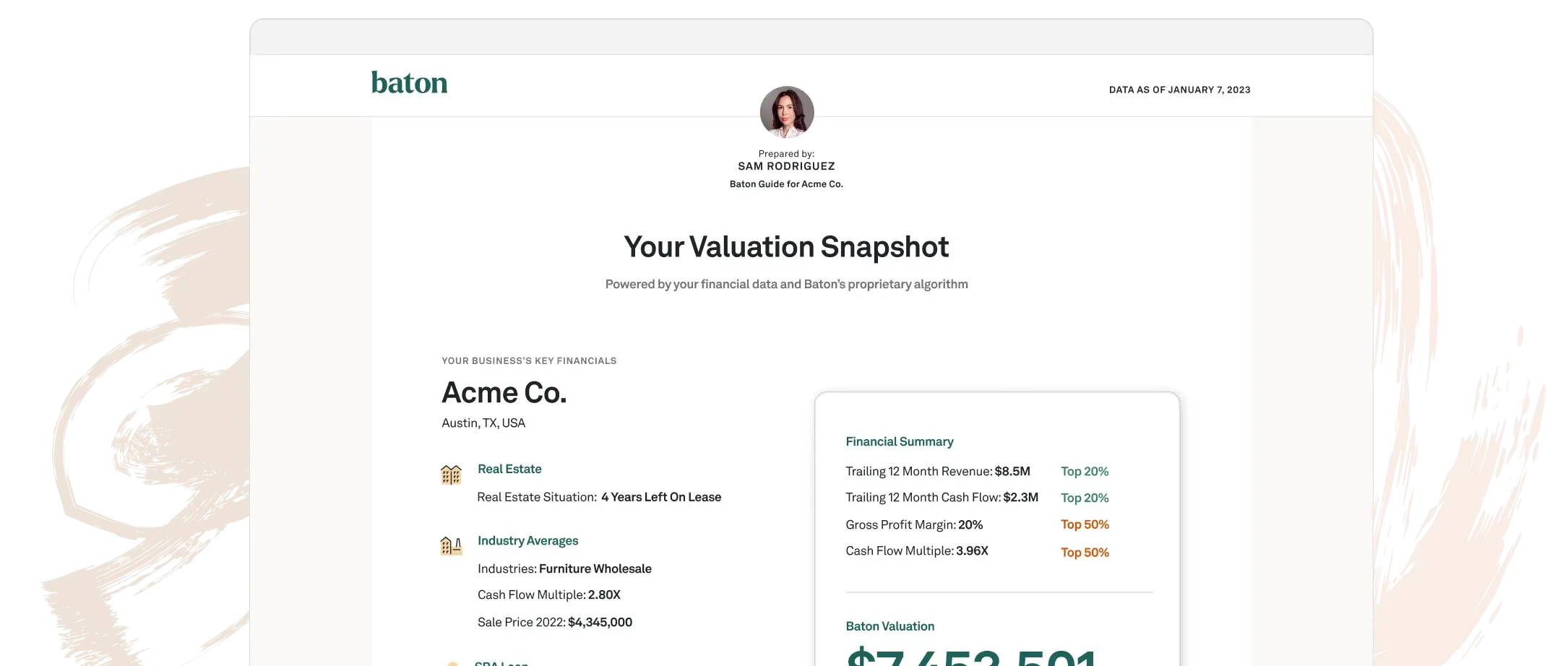 Understanding your results
Get an expert advisor to help with the "what next?"
Chat through your valuation results and business goals with an expert advisor from your industry (Baton Guide) who can suggest next steps.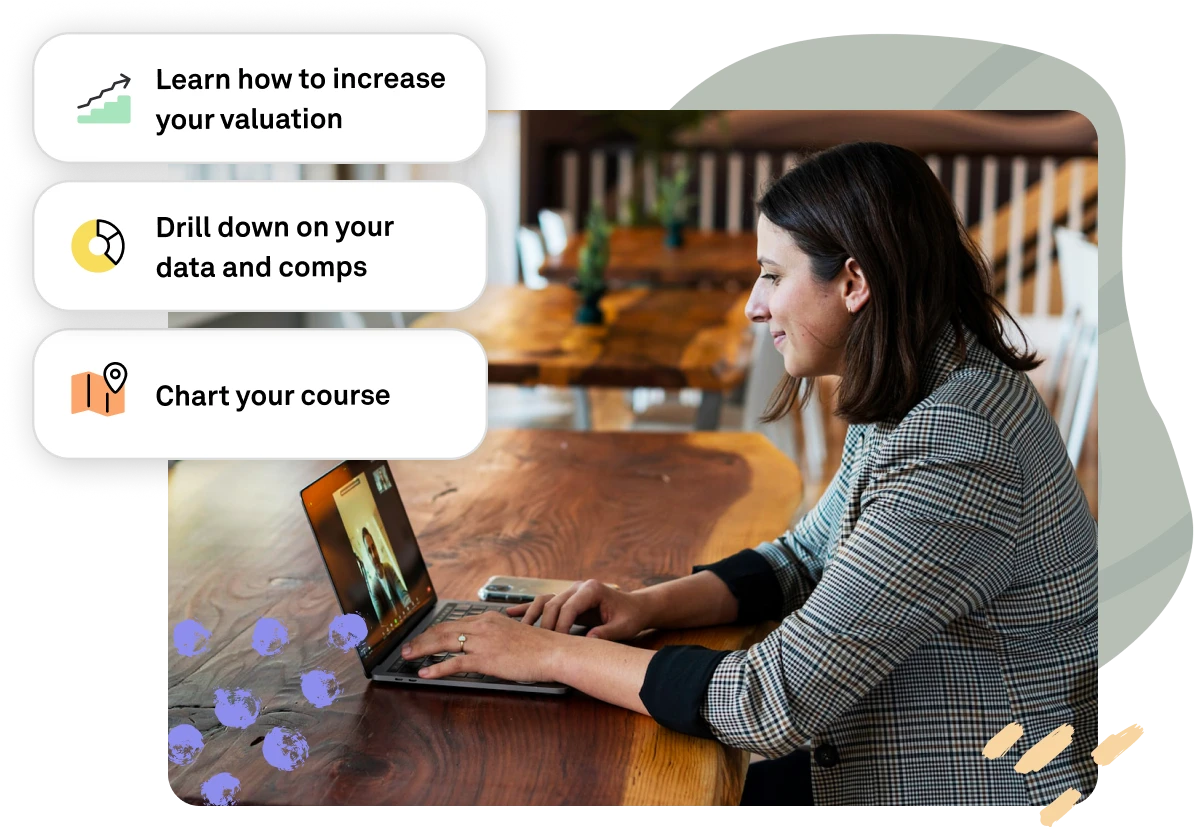 Who can see my data?
When you share your data with Baton, we use it to crunch the most accurate possible valuation. We never share with third parties, and your valuation is private to you unless you decide to share it.
BATON VALUATIONS
Knowing your worth is priceless. We made it free.
$0

cost to you. Valuations can easily cost over $8,000

95%

valuations are within 10% of offers

5 day

average turnaround time, it can take 4-6 weeks